Region – Zillertal
Situated in the heart of the Tyrrol, surrounded by the majestic panorama of both the Zillertal Alps and the Tuxer Alps, the Zillertal offers all, that the heart can desire: clean air, crystal clear springs, soughing streams, lush mountain meadows with fragrant herbs and a breathtaking view of the summits.
Furthermore the Zillertal is well–known for its traditional music, sociability and hospitality.

Enjoy your holidays actively, an experience throughout the year!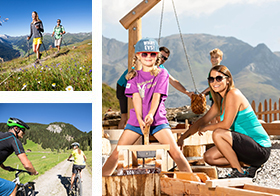 Activities in Summer
Whether you prefer comfortable bike trips, extreme paragliding
or breathtaking rafting and canyoning experiences the Zillertal is
the right choice for you. The possibility of physical exercise in
the marvellous natural sourroundings of the Alps surmounts
everything you could have dreamed of.
Mountaineering, Mountainbiken, Hikes, Nordic Walking,
Golfing, Swimming – there's no limit to the offer.
Activities in Winter
Ski Alpin ­ Skiing Areas in the Zillertal
453 lifts of the 11 ropeway companys in the Zillertal (from 1200 m to 3250 m) with overall 488,5 km pistes make for the total winter fun.
In Addition to that snowboard­funparks and skiing schools for children, as well as cosy ski huts and gloriously situated restaurants with sun terraces are awaiting your arrival.

Nevertheless cross–country skiing, ice skating... won't be forgotten. The Zillertal is known for unlimited winter fun.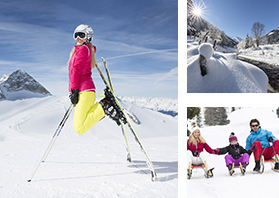 Tourist Attractions
Highlands-nature park Zillertaler Alpen
Alpin-rope climbing route Gerlossteinwand – the first fixed–rope climbing route in the Zillertal
ErlebnisSennerei Zillertal, Mayrhofen
FeuerWerk HolzErlebnisWelt in Fügen
Goldschaubergwerk, Zell im Zillertal
Local museum, Fügen
Bathing Lake "Schlitterer See"
Spannagelhöhle, Hintertuxer Gletscher
Schlegeis alpine road & catchment lake